Reserverings formulier
Grand Café –Brasserie – Restaurant De Verdraagzaamheid TO GO
Elke woensdag t/m zondag staan wij heel graag voor u klaar in de Verdraagzaamheid TO GO. Wij verzorgen met alle liefde, lekkere gerechten voor bij u thuis. Al onze TO GO gerechten zijn "ready to eat". Een kwestie van afhalen, thuis uitpakken en genieten.
Bestellen kan van woensdag t/m zondag van 10.00u – 18.00u op ons telefoonnummer 0418-518394. Uiteraard kunt u ons ook per mail bereiken via info@verdraagzaamheidzaltbommel.nl
Van woensdag t/m zondag staat er op ons terras van de Verdraagzaamheid ook een kraampje waar wij u heel graag voorzien van koffie TO GO, andere lekkernijen en een gezellig praatje. Dus bent u in de buurt of wandelt u gezellig langs de Waalkade? Wij staan graag voor u klaar.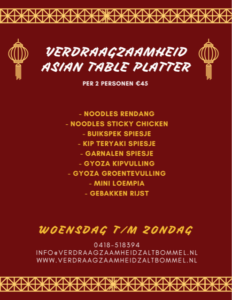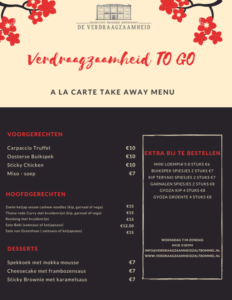 Speciaal voor zondag 14 februari verzorgen wij een;
CHAMPAGNE BRUNCH TO GO & SHARING DINNER TO GO;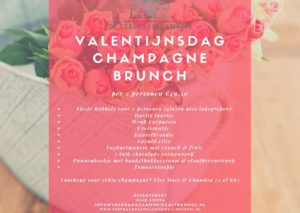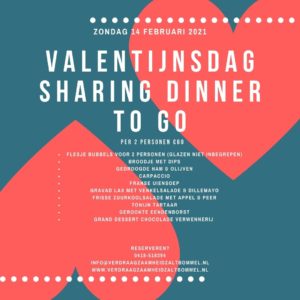 Liefdevolle & Bourgondische groet
Anthony & Vivian
Team de Verdraagzaamheid